lightweight frame villa 4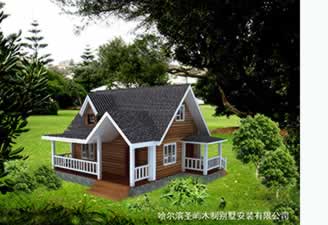 Wood villa and accessories description:
Species: Russian larch, Pinus sylvestris, oak, birch
Structures: lightweight frame structure, heavyweight log structure, heavyweight beams structure.
Our wood villas are not only sold domestically, but also exported to Canada, France and Japan etc.
We have a professional wood villa design team, providing hundreds of solutions to meet various of customer' requirements.
We produce various types of wood villa accessories: outer wall moldings, inner wall moldings, stairs, floorings as well as other accessories.

We have produced Siberian pine(pinus sylvestris) wooden houses for many years. It has two types---glued-laminated wood house and round log house. Both of them can be easily installed and maintained. Siberian pine has long-term growing period, so it is much stronger than other species, like spruce and fir. So our houses are against from heavy snow, earthquake, rain. You will live safely and comfortably. With special chemical painted on wood, our house can prevent from termites from attacking. Our houses are applicable in seaside, forest, desert and land. Lifespan is as long as fifty years. Maintenance is very easy---paint wood wax every three~five years.
For more photos and introduction, please go to http://www.harbinsybs.com/ew/index.php